Hall of Fame Class of 2010
The 17th annual induction ceremony was held on January 31, 2010 at the V.F.W. Post 972 in Terre Haute, IN.
The Akers/Grindle award was presented to Party Marty in recognition of his service to the Hall of Fame. Party Marty has served as one of the hosts of the Induction Ceremony since the first one was held in 1994. Not only has he donated his time in this manner, but he has tirelessly promoted the Hall of Fame to the public. The Hall is grateful for his efforts on our behalf.
Click any picture on this page to see a larger version. When you are done, click your browser's Back button to return to this page. Do you have a photo that you can share with us? Go to the Contact Us page for instructions on how to do this.
List of the Class of 2010
| | | |
| --- | --- | --- |
| Allan Banfield | Rick Frakes | George Rusin |
| Stephen Black | Dicky James | Steve Rusin |
| Jerome Cheatham | Don Lazzell | Vikki Layton Scott |
| Phyllis Cox | John Moore | Larry Velez |
| Jim Doyle | Mike Newburn | Gary Wells |
Pictures of the Class of 2010

Allen Banfield

Doc Long, Stephen Black

Archie Smith, Jerome Cheatham

Phyllis Cox

Jim Doyle

Robert Lane, Rick Frakes

Dicky James

Don Lazzell

John Moore

Mike Newburn

George Rusin

Steve Rusin

Vikki Layton Scott

Larry Velez

Gary Wells

Class of 2010
Akers/Grindle Award Presentation to Party Marty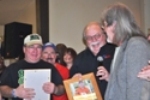 Party Marty, Doc Long, Rick Waggoner
Pictures from the Induction Ceremony