HOF Founder John 'Arley' Price
Musical Career
Arley Price played many instruments, but was probably best known for his work on guitar and trombone. He was the band leader of many well-known Wabash Valley bands, and performed in many others. One of his bands, The Five Chords, toured nationally and recorded a record, and also performed at USO shows overseas.

Just a few of his many accomplishments are noted in his obituary below.


Hall of Fame
Like Bill Akers and Terry Haughee, Arley was both a founder and an inductee of The Wabash Valley Musicians Hall of Fame. When Bill Akers and Alva Grindle began their discussions on forming a Hall of Fame, Arley participated in many of the discussions, sharing his knowlege and experiences. The Hall gratefully acknowledges Arley's contributions and is proud to call him one of our Founding Fathers.

Arley was inducted into the Wabash Valley Musicians Hall of Fame in the Class of 1996.

Arley once again became involved with the Hall when Alva Grindle revived the organization in 2006 after a four year hiatus, serving for a short time on the first Board of Directors. He received the Akers-Grindle Lifetime Achievement Award in 2013, at the time being one of only three people to receive this distinguished award.
Obituary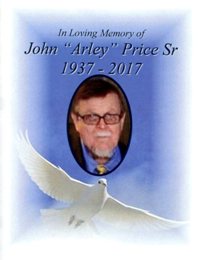 John "Arley" Price Sr., 79, of Terre Haute, passed away peacefully at 8:15 a.m. Wednesday, March 15, 2017, at Westminister Village in Terre Haute. He was born Nov. 12, 1937, in Vigo County, to John C. Price and Nellie M. Sullivan Price.

His wife, Patricia Jayne Sullivan Price, whom he married on Aug. 15, 1958, in Carbondale, Ill., preceded him in death on July 18, 2003.

Arley is survived by his seven children, John Arley Price II (Jo-Ann) of Terre Haute, Dixie Whalen of Toledo, Ohio, Penny Chrisman of Indianapolis, Melody Lunsford (Mike) of Brazil, Vince Price (Sandra) of Long Beach, Calif., Donald P. Price (Angie) of Terre Haute, and Julie Bunch (Eddie) of Terre Haute; 23 grandchildren; 18 great-grandchildren; a brother, Ben Price (Rita); a sister, Betty Kennedy (Dick); and numerous nieces, nephews, extended family and friends.

He also was preceded in death by his parents; seven sisters; and one brother.

Arley began playing music in 1951 with the Wabash Valley Troubadours, and the Highlanders. Arley and several friends formed the nationally acclaimed group, The Five Chords in Terre Haute. Shortly after forming the group, he joined and served his country in the U.S. Marine Corps. Following his service in the USMC, The Five Chords toured the U.S. and Canada before touring with the U.S.O throughout the Far East in 1960. Arley also led several bands including: The Country Sounds, The Price Tags Family Band, The Nashville Rejects, Don Price and the Nashville Rejects, Band of Gold, Big Daddy's of Dixieland, Big Daddy's Band of Gold and Arley Price and Friends. He was a member of several groups over the years including: The Salvation Army, The Shrine Drum and Bugle Corps, Vigo County Veteran's Council, DAV, VA volunteer driver, Shrine hospital van driver, the city of Terre Haute Annual Events Emcee, and a mentor, teacher, and model to musicians for over 60 years. Even in failing health he continued playing music but focused on those in the same facilities which he needed to be in these last years and could not get out to hear music. He was the last living founding member of the Wabash Valley Musician's Hall of Fame. He received the Alvie Grindle Lifetime Achievement Award for serving as a mentor in helping others get started in the field of music.

Funeral services will be 2 p.m. Saturday in the Salvation Army Church, 234 S. 8th St., Terre Haute, with Captain Cindy Hoag officiating. Burial will be in Bethesda Memorial Park with military graveside rites by the Vigo County Veterans Honor Guard. Visitation will be 10 a.m. until service time Saturday in the church. Care and arrangements have been entrusted to Fitzpatrick Funeral Home.
A 2016 newspaper article reported: "Price graduated from Gerstmeyer Technical High School in 1956 and joined the Marine Corps to serve with the First Airborne Division at Camp Pendelton, Calif. Price with his band of Terre Haute natives, The Five Chords, were under contract with Artist Corp and toured the Northwest and Canada. They also had a USO 90-day Far East Tour in 1960. In the late-1960s, The Five Chords, released "I Need Your Loving," written by Price and Jack Lewis. Quickly a hit back home in Indiana, they performed often at the Boom Boom Room in Indianapolis and Club Idaho in Terre Haute."
Click a picture to see a larger version. When you are done, click your browser's Back button to return to this page.
Last update on 25 Apr 2017